The Hut
Originally built as a Methodist chapel for the quarry workers on Moel Siabod in the late 19th century, our hut was bought by the Gwydyr Mountain Club in 1972 after it was de-consecrated . Thanks to an enormous effort by members over the years the hut has slowly been improved and developed and is now an excellent bunkhouse style facility in the heart of the mountains. There is a reserved weekend for members (and potential members) at least once a month. On other weekends the hut is let out to other groups.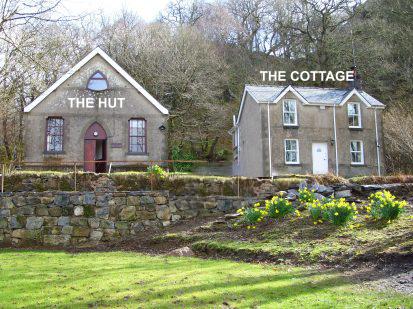 There is sleeping accomodation on solidly built wooden bunks in a single mixed-sex bunk area for up to 32 people. Seven bunks are always reserved for members, and to ovoid overcrowding in the kitchen visiting parties are limited to a maximum of 20 people.
The kitchen/dining area is well fitted out with two separate cookers (gas hob with electric ovens), two fridges, a microwave, toasters and electric kettles. Hot water is supplied from the gas boiler. Ample crockery and kitchen utensils are supplied.
The toilet facilities have recently been modernised, with excellent hot showers powered by the gas boiler.
There is a gas fire in the lounge area. There is also a drying room.
Electricity is supplied via a coin operated meter (£1 coins), but the bottled gas is supplied within the rental cost.
There is off-road parking for up to eight cars

Please note that smoking is not permitted in the Cottage