Thursday walk: Flint Castle to Rosesmor.
Organiser:
Mike McEneany & Roger Hughes
The area and details of the meet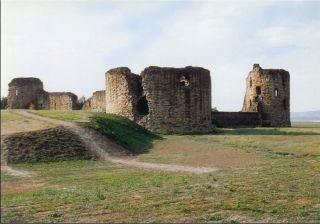 We are proposing to continue with the Mike Stevens' Castles Trail. The next two castles are Mold and Ruthin, a total (according to Mike Stevens) of 29 miles. He talks in terms of 2 days, but with the number of stiles and problems of route finding we propose doing it over 3 days, so on 18th April we will do Flint Castle to Rosesmor.
We need to take cars to the finish so it is important for everyone to get the Flint Castle car park for 9.15 so we can decide how many cars to take to Rosesmor to start in earnest at 10.00. Those waiting at Flint can pass the time "doing the castle"!
There are two car parks near the castle, one large one by the football ground but a smaller on slightly to the West right by the castle - I suggest we use that one.
Hope to see you there, but it would be helpful if you email Roger or Mike so we know roughly who is coming.