Welsh 3000s - The Easy Way
The area and details of the meet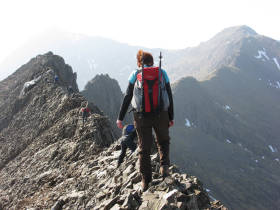 The idea is to complete the Welsh 3,000s in a more relaxed manner. Ideal for those who are route planning for a future 'full on' traverse, as well as those who think it is just too big a job to finish in 24 hours but still want to claim the accolade of having 'done' the 14 pesky things. The plan is:
| | | |
| --- | --- | --- |
| Thursday | Day 1 | Snowdon |
| Friday | Day 2 | Glyders |
| Saturday | Day 3 | Carneddau |
| Sunday | Day 4 | Siabod café for a full Welsh breakfast |
Cars will need to be put in place the night before and we need early starts (8:30 ish) to give us the best chance of completing each section without any rush. And of course leaving time for nipping in for a post hill pint.
It would be great to have a meal together on the Saturday evening. If anyone who doesn't want to do the walk, but would like to join the celebrations on Saturday evening, would like to do a bit of catering, please get in touch and we can make a plan. Nothing complicated or fussy.
For those who know how rubbish I am on navigation, Kev will be in charge of this bit. So rest assured, we won't get lost!!
Please let me know if you will be coming along. We'll work out which cars need to be where once I know numbers.
One caveat. This is an incredible and challenging walk and people may need to take holiday to complete it. If the weather is forecast to be bad, I will postpone and reschedule. It really doesn't make any sense to do this in low cloud or rain. The weekend is scheduled as a hut weekend so we can just revert to a standard weekend if need be.