Saturday walk: Rylstone - Cracoe Fell
The area and details of the meet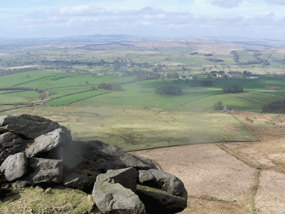 This walk includes possible 'Calendar Girls' (and boys?) spotting – the village of Rylstone where the charity calendar craze all started lies below our route…so you never know!
It's a circuit over wild and remote gritstone hills on the western edge of the Yorkshire Dales, looking down into Wharfedale and towards the 3 Peaks. The meeting place is at GR038555 on the B road between Embsay and Barden, at the cattle grid layby. Parking is a bit limited so really important to share cars if possible on this one please.
The going is reasonable easy if a little boggy in parts, but a lot of it is on land rover track too. Again a full day without being a massive one. Planned start time is 10.00am.